Be A Part of Our Rare Community
My name is Lois Perry, and I am the Director of Health for the Hereditary Angioedema Association (HAEA). For close to twenty years, the HAEA has been committed to actively engaging our community in a wide variety of grass roots activities that promote disease education and awareness. We provide personalized services to address the unique needs of HAE patients and their families, which include guiding them through the process for access to and reimbursement for modern HAE medicines. We also work closely with expert physicians to continually improve patient quality of life through better diagnostic tools and knowledge of the disease, as well as encouraging an individualized, patient-focused use of available therapeutic options.

We are currently updating the HAEA's communications platform and would like to ensure that you do not miss any important HAE information. The HAEA in Action Newsletter is a great resource to help keep you up-to-date on the latest news, advocacy efforts, special events, advances in research, and latest therapies.

If you are a long-time subscriber, you know that this newsletter is sent out digitally only once a month. If you wish to continue receiving the newsletter, no additional action is required. If you no longer wish to receive the HAEA in Action Newsletter, we will hate to see you go, but please scroll down to the bottom of the page and click on Unsubscribe, and we will note your request.

Be sure to continue to keep in touch with your HAEA Health Team members - we are here to help!

Sincerely,

Lois Perry
---

Advances In Research
The HAEA has made significant investments in clinical research to advance our knowledge of HAE with Normal C1 inhibitor and to help improve the quality of life for members of the HAEA community living with this disease.

These investments are paying off and we are pleased to announce that the physician/scientists at the US HAEA Angioedema Center at University of California San Diego have published a medical journal article regarding a blood test they developed that will help physicians more accurately diagnose the cause of recurrent swelling in patients who do not have a deficiency of C1 Inhibitor. The test can determine if swelling is related to histamine or bradykinin. Swelling in HAE types I and II is caused by bradykinin, and current HAE treatments either prevent its production or block its effect. The results of this blood test could lead to more informed treatment decisions.

It is important to stress that like any new scientific discovery, this blood test is still experimental, and must be further evaluated before it can be approved by the FDA and used as a diagnostic tool.

The HAEA is committed to moving forward with this and future scientific advances in the diagnosis and treatment of HAE with Normal C1 Inhibitor.

The article is entitled, "Threshold-Stimulated Kallikrein Activity Distinguishes Bradykinin From Histamine-Mediated Angioedema" and appears in the Journal of Clinical & Experimental Allergy.
---

FDA Approves New HAE Therapy
The U.S. Food and Drug Administration (FDA) has approved TAKHZYRO™ (lanadelumab-flyo) injection for prophylaxis to prevent attacks of Hereditary Angioedema (HAE) in patients 12 years of age and older.

"HAE attacks are painful, debilitating, and potentially life-threatening. TAKHZYRO provides the HAE community with a new option for the prevention of HAE attacks," said Anthony J. Castaldo, President, U.S. Hereditary Angioedema Association. "We are grateful for the time and effort put forth by the patients and researchers who participated in the clinical trial program that enabled this important addition to the HAE treatment landscape."

TAKHZYRO is a monoclonal antibody (mAb) that provides targeted inhibition of plasma kallikrein, an enzyme which is chronically uncontrolled in people with HAE, to help prevent attacks. The recommended starting dose of TAKHZYRO is 300 mg every two weeks. A dosing interval of 300 mg every four weeks is also effective and may be considered if the patient is well-controlled (e.g., attack free) for more than six months.
---

Announcing the Pam King HAEA Scholarship Program
The HAEA is saddened about the recent passing of our Acting Chief Operating Officer, Pam King. Throughout her career in the pharmaceutical industry and the patient advocacy realm, Pam continuously inspired us with her relentless dedication to helping patients battling serious medical conditions lead a productive life. She had a special place in her heart for providing young HAE patients with opportunities for overcoming obstacles and fulfilling their goals and aspirations. Pam launched the HAEA Scholarship program in 2015, which has helped over 50 HAE patients pursue higher education even while facing enormous health challenges.

To honor Pam and her devotion to young HAE patients, we are memorializing the scholarship program in her name - the Pam King HAEA Scholarship Program. Scholarships will continue to be awarded to recipients who demonstrate the characteristics that Pam brought to the HAE community: relentless hard work, resilience, courage, and a passion for giving back. We invite you to celebrate Pam's legacy by contributing to this worthy cause.

Your financial support will fulfill Pam's goal of empowering young patients to break free of the impediments caused by a rare, chronic disease and establish a path for a better future by pursuing a college degree. Scholarships are especially important for young people in our community because families with HAE often face financial challenges caused by the many burdens that result from dealing with HAE. Join our team, and let's work together to Inspire, Educate and Celebrate our past and future recipients of the Pam King HAEA Scholarship Program. All gifts are immensely appreciated. Our average scholarship recipient receives $2,500. How many lives can you help us change?
---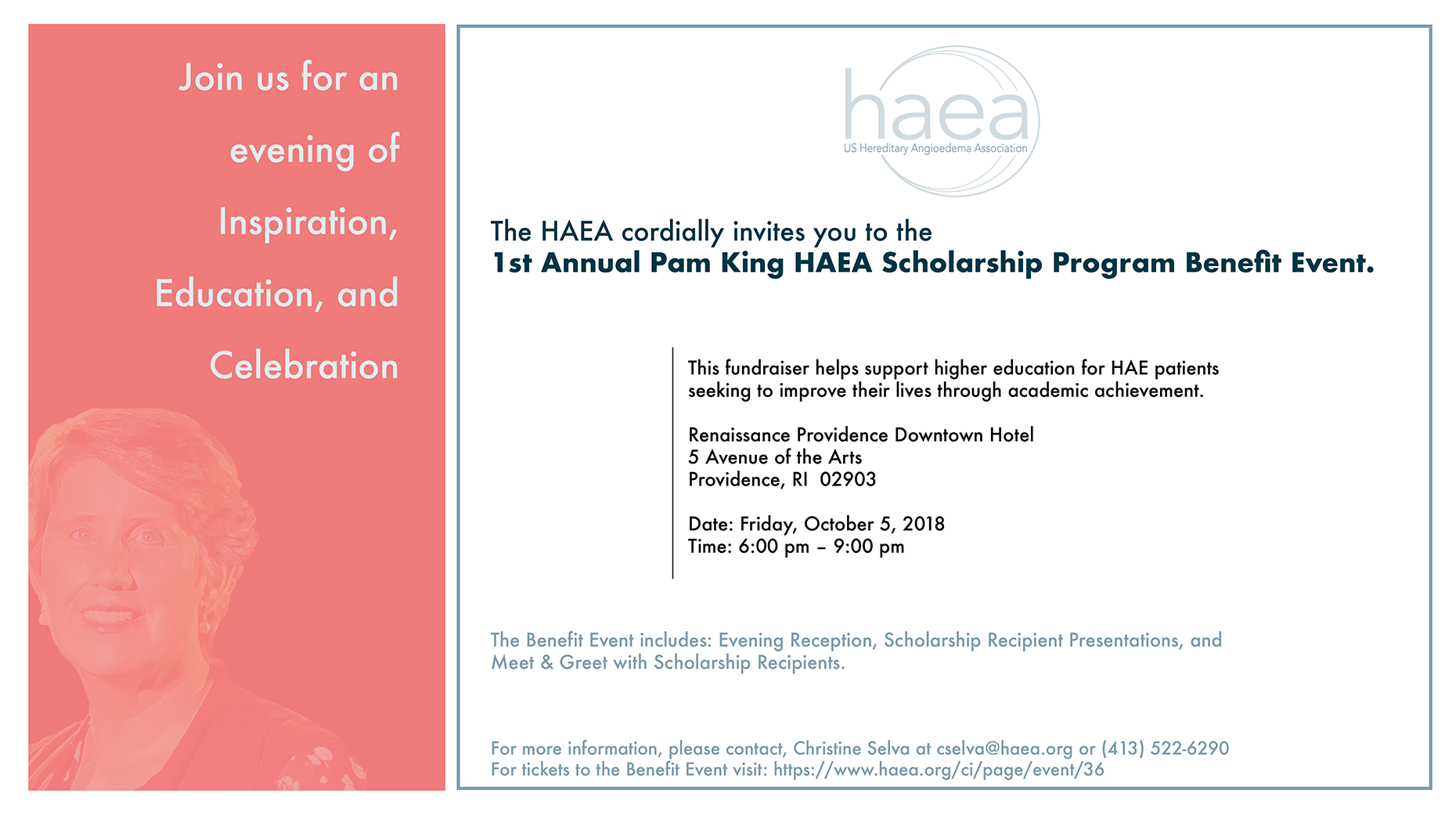 Save the Date: Friday October 5th, 2018
To recognize your support, all donors gifting $500 or more will be cordially invited to join us for an inspiring evening of tribute and gratitude at our first annual Pam King HAEA Scholarship Reception in Providence, RI on October 5th. The reception will provide donors a chance to hear from the recipients and learn about how the program is helping them to embark on a promising and productive future.
---

Spring Scholarship Applications Are Now Open!
Attention students! You can now fill out your online application for the Pam King HAEA Scholarship Program for Spring 2019! The HAEA is dedicated to helping our patient community achieve their lifelong educational goals and aspirations. The Pam King HAEA Scholarship Program is available to US citizens with a confirmed HAE diagnosis. The NEW Scholarship Awards offer financial support for the Spring 2019 semester.

The deadline for applications is September 30th, 2018.
Awards will be announced on November 1st.
---

Dear HAEA Kids and Families,

The HAEA is proud to launch some exciting new features of the Brady Club and we would like to invite you and your family to participate. The Brady Club is now available for download on your mobile device. Find it on the Android and IOS app store, under the Brady Club (*Look for Brady the Bear on the app icon). Once you download the app, register on our secure platform to gain access to all the features!

We want to make it fun and easy for your kids to learn about HAE!
1. Download The App
2. Register
3. Have Fun
4. Get Free Stuff In The Mail

Once you download the app and register, your kids will be signed up to receive a quarterly Activity Book in the mail. The Brady Club Activity Book is filled with fun games, information, photos and stories from other kids with HAE, and a special kids corner where an HAE specialist will answer questions about HAE.


---

Connect Through A Support Group
Try a little self-care! Join other HAE patients, caregivers, and family members as they share their day-to-day life experiences. We all need time to process and reset. A support group can help you cope better and feel less isolated as you make connections with others facing similar challenges. For more information or to join a group, please contact HAEA Health Advocate, Troyce Venturella at troyce@haea.org.

Groups are currently meeting every other week (all are listed in Eastern Time)

Tuesday 12 noon
Tuesday 7:30 PM
Wednesday 7:30 PM
Thursday 11:00 AM (mostly parent caregivers)
Thursday 7:30 PM
---

The HAEA is proud to announce the first annual HAE Youth Advocacy Month. Join us this October as we spotlight young HAE patients and their family members who are making a difference by raising awareness about HAE. We challenge you to think of a way to raise awareness in your community in October and share your efforts with us.

There are MANY ways to get involved. Find one or more that works for you!

Educate:
Awareness is an important part of educating others and developing community support for Hereditary Angioedema patients and families. Just because HAE is rare doesn't mean that people shouldn't know what it is.

• Order an HAE ER Tool kit and deliver it to your local hospital, emergency room, urgent care, and/or school nurse to help educate medical professionals about HAE.

• Share information about HAE with your friends, family, or community members. The HAEA is happy to send you HAE infographics that make learning about HAE easy and fun. We can send you swag to hand out (infographics, HAE bracelets, stickers, buttons, and CME cards)! Send an e-mail to Jenny Barnes jennybarnes@haea.org and tell her what you'd like us to send and how many!

• Post information about HAE on social media! Spread the word online. Be creative and post a fun video you create, ask us to send you an informational graphic to post, or simply share one of the HAEA posts on Facebook, Twitter, or Instagram!

• Contact your local newspaper or news station to share your story - the news loves to highlight young people who are overcoming extraordinary circumstances.

Advocate:
Advocacy is important because it can change the mindset of someone who is in power to make decisions that impact you.

• Send a letter to your senator or state representative encouraging them to keep your best interests, as a patient with a rare disease, in mind when they make decisions that will impact you and your family. We are happy to send you a template email or letter for you to send out.

• Sign up for the HAEA Legislative outreach program by contacting John Williamson john@haea.org.

Inspire
There are many ways that you can inspire others to make a difference in the lives of HAE patients and fundraising is one of them. Funds raised go to three key HAEA programs to support patients: The Pam King HAEA Scholarship Program, HAEA Compassion Fund, and HAE Research.

• Host a fundraising/awareness event at your school or community center (wear jeans day if you wear uniforms, bake sale, sporting event, etc.)

• Participate in an HAE IN-MOTION® 5K run/walk event. There are 5K's held at different locations around the U.S. throughout the year and two of them are scheduled for October. Sign up to join us for a morning of fun, or start your own Virtual Team! You can encourage your friends to join in and create competing teams!

• Encourage your friends, family, and community to purchase online using Amazon Smile; donating 1% of all purchases to the HAEA.

• Fundraise online through the Facebook Fundraising page or a crowdfunding page like Indiegogo.

If you need help thinking of a way to raise awareness, you can watch a recent Youth Edition Webinar: "Fundraising and Advocacy" in the HAE Cafe, or email Lisa Facciolla at lisa@haea.org.
---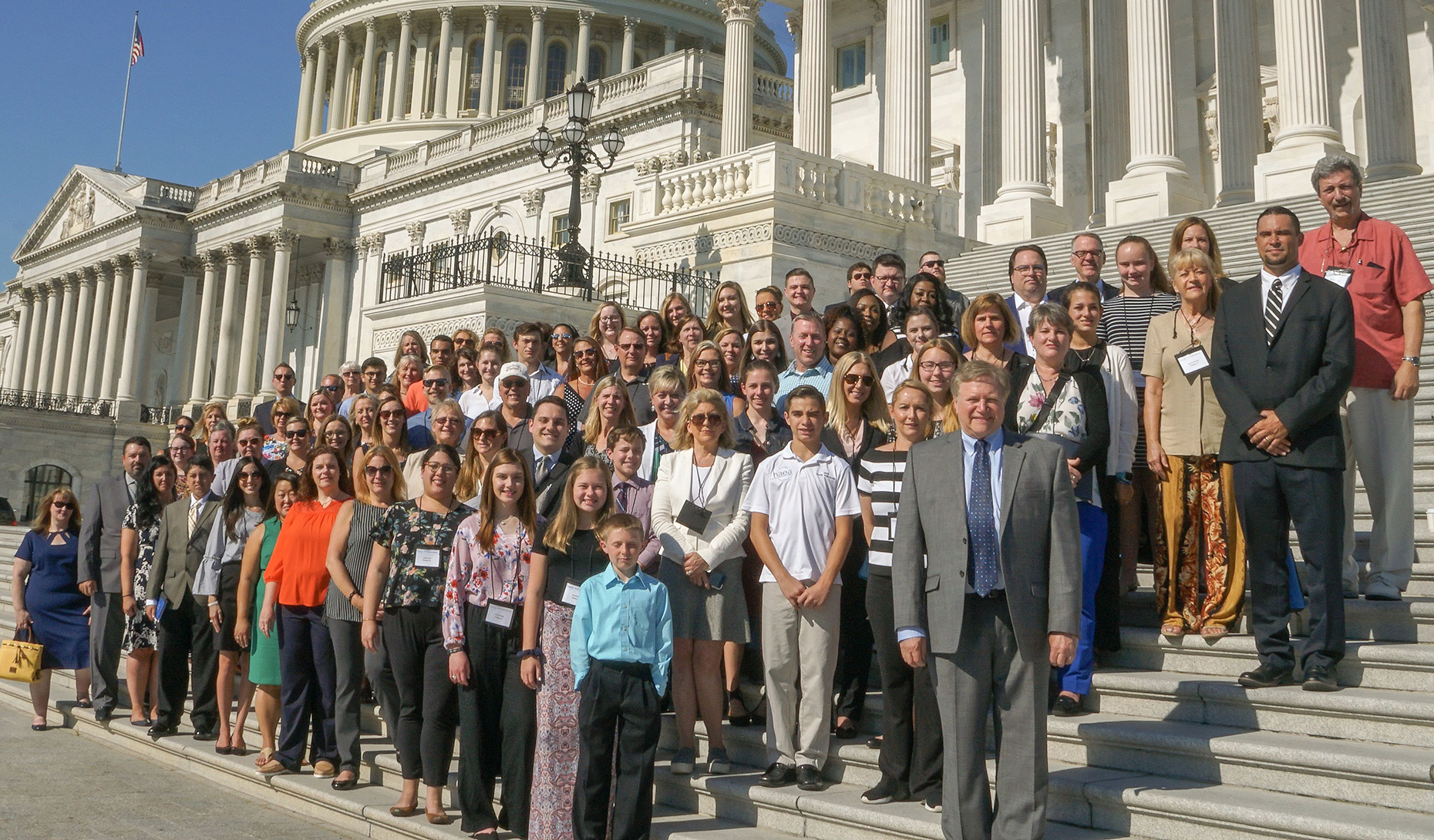 Your HAE Story Can Help Impact Public Policy
As you know, this summer the HAEA led a group of 90 HAE patients to Capitol Hill to speak with over 80 members of Congress and advocate on behalf of the HAEA patient community. Furthermore, this event included members of the HAEA Youth program, who participated in a specialized advocacy training session to learn about the importance of legislative policies, how they can get involved to have an impact on these policies, and to better understand how the legislative process works.

Our HAEA community was strong, inspirational, and well-informed. Due to our collective efforts on Capitol Hill, HAEA patients and family members were successful in adding six additional co-sponsors to H.R. 3976, which supports charitable patient assistance programs. Together, we were also able to spread HAE awareness and educate lawmakers on the issues that impact all rare disease patients, and how legislative decisions will affect access to life-sustaining therapies and care for those in our HAEA community.

However, our work is not done. We need to continue spreading HAE awareness and advocating at a high level.

Members of Congress will be in their districts regularly during the run-up to the November elections. Legislators will use this time away from Capitol Hill to meet with their constituents, and learn about the issues impacting the people they represent. Grassroots advocates for the Hereditary Angioedema community are encouraged to use this opportunity to schedule meetings with members of Congress in their District Offices and to educate legislators and/or staff on HAE. A specific message on how legislators can support the patient community through their sponsorship of H.R. 3976 and other legislative affairs will have great impact.

You do not need to be an expert in legislation to be effective, you just need to be willing to tell your HAE story. The HAEA will assist you with the rest. Taking action is easy!
For more information on how you can support these grassroots efforts, contact John Williamson.
---


Saturday, September 8th - HAE IN-MOTION® 5K event at Blue Lake Regional Park, in Fairview, Oregon!

Don't miss this next HAE IN-MOTION® 5K event on Saturday, September 8th at Blue Lake Regional Park, in Fairview Oregon! Check out the breathtaking viewpoints of the Blue Lake Regional Park!


---

Learn About A New Preventive Treatment for HAE
Link: https://haea.zoom.us/j/343124104
Phone: +1 646 558 8656 (Webinar ID: 343 124 104)
Please Let Us Know You will Be Attending Here!.
---

Saturday, September 22nd, HAE IN-MOTION® 5K Event at Nomahegan Park in Cranford, New Jersey!

Get ready to walk, run and cheer on Saturday, September 22nd, at the next HAE IN-MOTION® 5K event at Nomahegan Park in Cranford, New Jersey! Join us after the race for amazing food & great family activities! All confirmed registrants are entered into a raffle for a Bose® Wireless Speaker! Funds raised go to 3 HAEA patient support programs: The Pam King HAEA Scholarship Program, The HAEA Compassion Fund, and HAE Research.


---

Saturday, October 6th HAE IN-MOTION® 5K Event At Roger Williams Park - Carousel Village, Providence, Rhode Island!
You can help fundraise for the Pam King HAEA Scholarship Program on our next HAE IN-MOTION® 5K event on Saturday, October 6th at Roger Williams Park - Carousel Village, Providence, Rhode Island! Fundraise $500 individually or with your virtual team, and you and a guest can attend our 1st Annual HAEA Pam King Scholarship Program Benefit Event on Friday, October 5th. The Providence 5K is dedicated in loving memory of Pam King, who passed away from metastatic breast cancer on June 16th, 2018. Pam worked with the HAEA for the past ten years and was responsible for developing the Scholarship Program which we have renamed in her honor. All funds raised during the Benefit Event as well as the Providence 5K will go toward the Pam King HAEA Scholarship Program.
---

Saturday, October 20th HAE IN-MOTION® 5K event at Vista View Park, Davie, Florida!
Register For the Davie Florida 5K Here!
---
The HAEA is a patient advocacy and research organization committed to actively engaging our community in a wide variety of grass roots activities that promote disease education and awareness. We provide personalized services to address the unique needs of HAE patients and their families, which include helping them secure access to and reimbursement for modern HAE medicines. Our great success in supporting clinical research has resulted in a variety of FDA-approved therapeutic options. We work closely with expert physicians to continuously upgrade patient quality of life through improving diagnosis and knowledge of the disease, and encouraging a tailored, patient-focused use of available therapeutic options. The HAEA is product neutral and continues to enthusiastically support drug discovery research aimed at the next generation of HAE therapies.
---